Review – Stokke® Sleepi™ Mini
Overview: Looks beautiful, functions really well and has longevity as a product. However it was faulty upon assembly, there is very poor customer care and wildly expensive accessories.
Full Review:
A fan of aesthetics and clever design, my husband was the one who ear marked Stokke as a favoured brand when he was researching prams in the beginning.
We didn't opt for their pram in the end (another story), but as soon as we clapped eyes on their oval crib we were smitten. It's sleek simplicity is very easy on the eye. I'm a fan of Scandanavian design in furniture anyway, from Ikea to Nordic Makers to Søstrene Grene. I love the clean lines, quirky designs, and nod to retro styling.
A main feature of Stokke products is that they are designed to grow with baby, you, and your family. It's implied that you should enjoy the product for years to come, and that it's certainly not of the disposable nature that much baby equipment tends to be. This longevity is reflected in the price though with their products sitting on the higher end of what's available. A big niggle of mine is the fact that each add on, extension and accessory is also very costly and once you've purchased a product they have you by the goolies on this point. (Check out my DIY canopy for a saving of €60)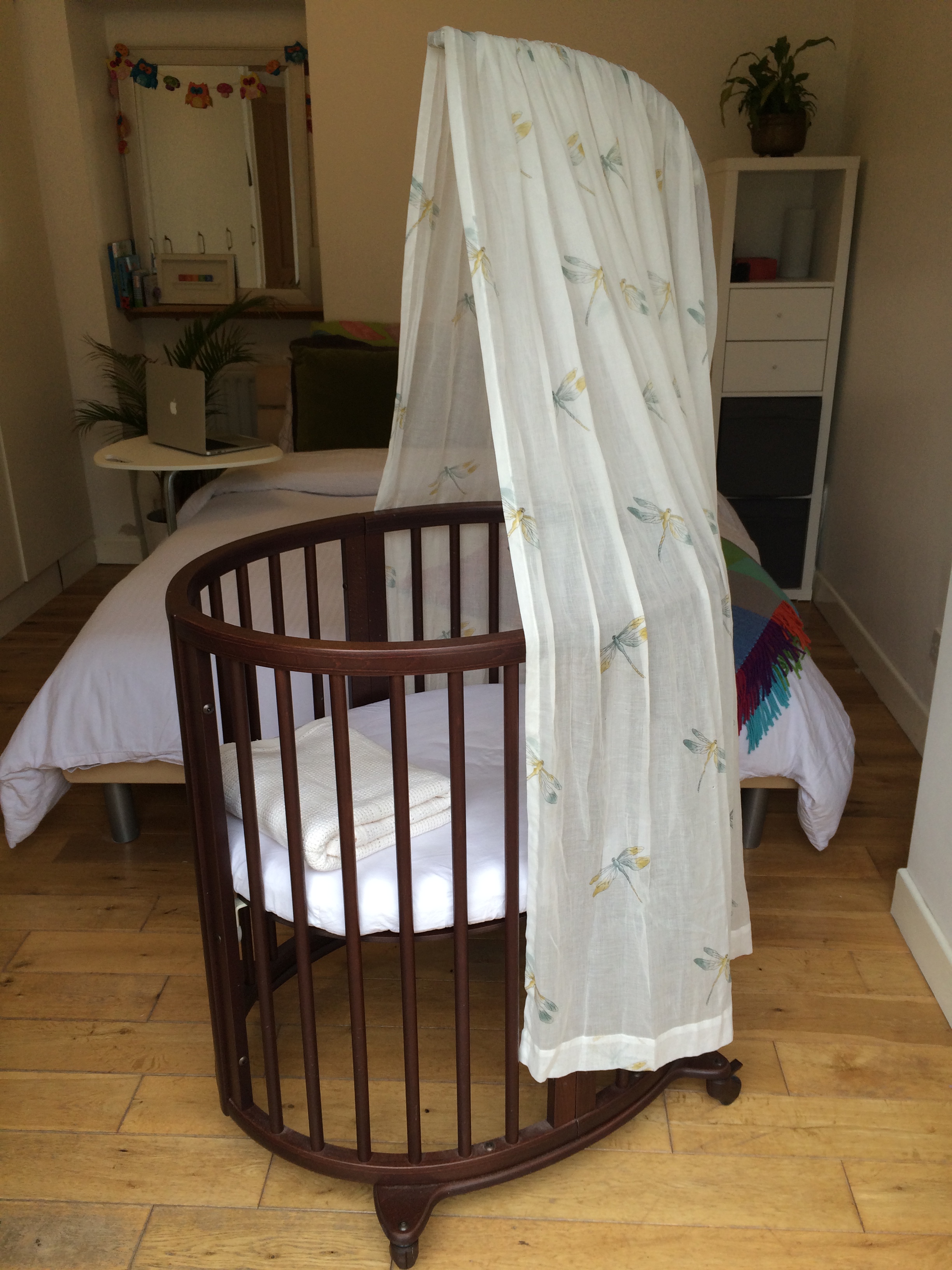 The Sleepi system begins as the Mini – a gorgeous crib with attached canopy arm (see my DIY canopy) which extends to a cot when your baby requires it (around 6 months). In order to extend you need to purchase the extension pack and mattress.
After much humming and hawing (particularly about the cost) we spotted a deal on the Stokke Sleepi system in Bella Baby. They were offering the extension pack for free with the purchase of the Stokke Mini. It was a saving of a couple of hundred at least so we took the plunge. We decided on the darkest wood colour option of Walnut.
Now, typically I'd left it to the last minute, and it was looking like we'd have no bed for Caleb upon his arrival, but Bella Baby were great and rushed though our order so it arrived to our door in less than two weeks.
Furniture assembly is my forte. As in, I enjoy it. Soak that in for a sec. Ok, lets move on. Early into the assembly I noticed the pieces needed a fair bit of brute force and manipulation to get them to align properly, which didn't seem right to me. I persevered, it seemed a little warped. I persevered again, and finally when the wheels were attached and it was complete, it wobbled. Yep, the thing didn't sit flush on it's wheels. Two touched the floor, and two didn't. I moved it around from room to room, testing, rocking and feeling very dissatisfied.
The culprit.
Stokke don't deal with customers direct so the next morning I contacted the shop via email with an attached image and video to demonstrate the issue. This was sent on to Stokke who replied saying they would send out a new set of wheels. I knew this would make no difference to be honest, but what choice did I have? The wheels arrived to the shop and we made the trip to collect them. Needless to say, the new set of wheels did not solve the problem.
The store contacted Stokke again on our behalf and had a battle on their hands when Stokke tried to send us another replacement part. I was very grateful to have a store willing to stand firm, telling them this was simply not good enough and that the entire crib needed to be replaced, and quickly. Bella Baby delivered the new crib upon arrival (while I was in hospital having had Caleb) and my husband was able to assemble it before I was home. This time it didn't wobble.
So there you have it. The crib was faulty and Stokke have no aftercare direct with the customer. We found their solution totally unsatisfactory and had it not been for the conscientious staff at Bella Baby who were willing to put up a bit of a fight, we wouldn't have had a crib in time for Calebs arrival home. Considering you pay high end prices for their products we expected far better customer service from Stokke and were really disappointed.
It has to be said though, the Mini is pretty darn gorgeous and it is even more so when your beautiful little bundle is sleeping soundly in it. The product is very high quality and so are each of the accessories. This quality does come at a cost. The canopy is €90 (see my DIY version for a saving og €60), each sheet is €29, the mattress for the crib section is €100 on top of the cost for the extension pack. There are also bumpers (€70) available but we didn't purchase one.
I give the product 4 out of 5. One point lost to expensive accessories. I didn't deduct a point for poor customer care.
The little man still enjoying (just about) the Mini at 6 months.